Gifts-in-Kind
With the support of donations, World Emergency Relief could ship numerous relief supplies to various countries that urgently need our help. From medical and sanitary supplies to irrigation systems, food, toys and school supplies - we deliver these goods to 12 countries worldwide.
.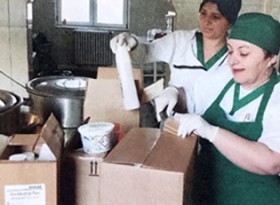 In addition, you allow us to support local facilities worldwide, providing medical assistance, food and clean water, educational opportunities, expert care, and cultivating health prevention.
This wouldn't be possible without our great team, which works tirelessly for children. We often work together with local partners and organizations to benefit from local expertise. A big THANK YOU to all our helpers and partners.
A special THANK YOU goes to ECOLAB and DOW for our long term cooperation!

More information
Would you like to get more information about our programs? Please get in touch with our team.
Contact us